When it is essential that you maximize the time that you have for the construction of a new office or the addition of offices due to the expansion of your business, a prefabricated office building can cut the time that is required for conventional methods of building by as much as 40 percent! This makes it much easier to make tight deadlines and get back to the normal work routine of your business operation. We all know that added time means added advantages and income for any type of retail outlet store, office building, healthcare facility, or classroom setting of various types of educational organizations.
The cost effectiveness of prefabricated office building construction is another advantage that many different types of companies in Maryland can benefit from when this option of construction is chosen. Since the time that is required to construct a prefabricated office building is almost cut in half when it is selected over alternative structures made of wood, the expense that is required to build prefab offices is also reduced by a large amount. When a company benefits from this type of savings in cost, it can then be averted back into other important areas of the business. There is also less money spent in future problems that are often caused to wood structures due to various elements of the weather, as they generally do not effect the sturdiness of a prefabricated office building.
Many business owners used to think that the look of a prefabricated office building was dull, drab, and unappealing. However, there is a wide variety of options that are available when it comes to the professional design and cho
Construction Trailers
Doctor's Offices
Hospital Extensions
Drug and Alcohol Rehab Centers
Community Clinics
Operating Rooms
Clinical Research Suites
Out-Patient Care Units
Psychiatric Units
Laboratories
Ambulatory Units
Dental Offices
Practitioner Clinics
Diagnostic Imaging Buildings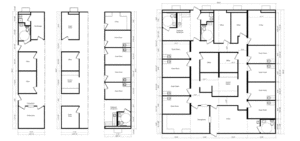 USMGE FlexSpace provides solutions through the use of varying size modules to configure the required space needed to accommodate the site footprint.
Advantages of USMGE Modular Building FlexSpace:
Architectural Savings
Design Flexibility
Economical Solution
Growth Flexibility
Interior Fit Out at Factory
Permanent or Temporary
Relocation Capabilities
Single or multi-story
Time Saving
Unlimited Variations