USMGE is well known as being a well respected Maryland modular building company that specializes in providing area business owners with complete turnkey operations for cost effectiveness and efficiency of modular building solutions for a variety of different types of operations. Modular buildings are the most reasonably priced method of construction that is used today by a large number of retail outlets, classroom facilities, healthcare offices, and a wide assortment of business offices. USMGE is a Maryland modular building company that has many years of experience that backs up their specialized knowledge and skill in constructing portable buildings in many different size specifications. The expert engineers of this company are known for their ability in constructing modular buildings for these types of businesses in almost half the time that it would take when more traditional methods of construction are used.
When company buildings are constructed with wood and other such materials, using old fashioned techniques for construction human error is bound to occur. When a modular classroom or retail store is built using advancements made in the modular building industry, human error is a thing of the past. This is because computerized precision cutting is used to precisely cut all angles that are required. Not only is this a process that eliminates errors that can cause delays, but it also helps to weatherize the prefabricated buildings from many different elements of the weather. Over time, offices that are made from wood and other materials can begin to show wear and corrosion. When professionals from a Maryland modular building company are on the job, these are problems that business owners do not have to face.
A large amount of a company's valuable time is saved when modular buildings are selected for new or additional buildings that are needed for the business. Much of the time saved is because site preparation and landscape needs are taken care of at the same time that the prefabricated buildings are being constructed in the factory. The prefabricated buildings can then be assembled on-site, and completed using the finish that you have selected, whether it is mortar, bricks, stucco, or other exterior finish. This makes it a cinch to match-up portable buildings to existing structures of any business.
In selecting USMGE as the Maryland modular building company that employs experienced specialists to construct a company's modular buildings, the business owner has the advantage of being able to customize each module to the specific qualifications of the company. There is no other type of construction option that is available today that provides so many types of businesses with such a cost-effective, flexible, and time-saving way to build a new business, add to an existing organization or company, or even relocate offices as needed.
Construction Trailers
Doctor's Offices
Hospital Extensions
Drug and Alcohol Rehab Centers
Community Clinics
Operating Rooms
Clinical Research Suites
Out-Patient Care Units
Psychiatric Units
Laboratories
Ambulatory Units
Dental Offices
Practitioner Clinics
Diagnostic Imaging Buildings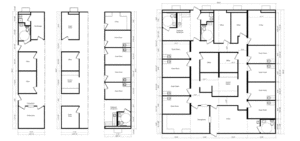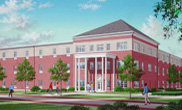 USMGE FlexSpace provides solutions through the use of varying size modules to configure the required space needed to accommodate the site footprint.
Advantages of USMGE Modular Building FlexSpace:
Architectural Savings
Design Flexibility
Economical Solution
Growth Flexibility
Interior Fit Out at Factory
Permanent or Temporary
Relocation Capabilities
Single or multi-story
Time Saving
Unlimited Variations